ACTUAL SIZE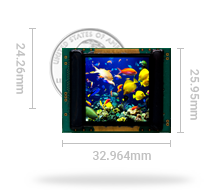 Resolution: 2048x2048 pixels
Pixel pitch: 9.3 micron
Interface: LVDS
2K Display
Production in 2024
ACCESSORIES
New drive boards will be available late 2023
eMagin Development Boards currently have long to very long lead-times due to the current semi-conductor shortages. For rapid solution capabilities for concept development and prototyping customers may contact the suppliers listed below.
---
The 2Kx2K Reconfigurable Color OLED-XL (2K_CFXL) active array is comprised of 2072 x 2072 square color pixels with a 9.3-micron pitch and a 75% fill factor. An extra 24 columns and 24 rows (beyond the 2048 x 2048 main array) are provided to enable the 2K_CFXL display to be shifted by steps of 1 pixel in the X and Y directions for optical alignment purposes. Each full pixel is laid out as three 3.1 x 9.3 micron identical sub-pixels, which together form the 9.3-micron square RGB color group. Three primary color filter stripes are applied in alignment with the sub-pixels on a white-emissive OLED layer to form the color display.
Unique to this microdisplay is the ability to configure the active area to any size from 512 x 512 up to 2048 x 2048 pixels in steps of four columns and one row. The resulting window can be positioned anywhere within the underlying 2072 x 2072 pixel array. The display timing can be adjusted to match the format being shown, enabling lower power operation due to the reduced pixel bandwidth, similar to that of smaller display having the same format. The number of data inputs can also be reduced based on the format selected, allowing for a smaller interface interconnect to be used for some applications.

The 2K is intended for near-to-eye applications that demand high brightness, high resolution, high image quality, compact size, and low power such as virtual reality and avionics systems.